From 19-21 May of 2022, nearly 200 people from across Europe and beyond met in Lisbon, Portugal for the 7th annual Dam Removal Conference: Connected Rivers.
This year's event was hosted by ANP|WWF Portugal, World Fish Migration Foundation, Agência Portuguesa do Ambiente, Wetlands International, the European Open Rivers Programme, and The Nature Conservancy. The venue was located at Laboratório Nacional de Engenharia Civil. The conference lasted 3 days (with a field trip on the last day), and was attended by 159 people from 22 countries. 
The goal of this year's conference was to increase general commitment and know-how around dam removal. In addition, attendees learned about making the dam removal process as efficient as possible, including how to kick start new funding mechanisms and policy changes. The seminar focused on scaling up dam removal, and ways this practice can help enhance the biodiversity of rivers across Europe. 
The conference hosted 32 speakers from 13 countries, ranging from river basin authorities, policy makers, EU project managers, water agencies, NGO leadership, companies, engineers, researchers,  social experts, and more.
A post-conference survey revealed that 96% of attendees found the event excellent or good. Additionally, over 70% found the seminar inspiring, and were pleased with the networking opportunities with fellow river heroes.
Highlights
Multiple LIVE connections, including a visit to a dam removal in France with Roberto Epple.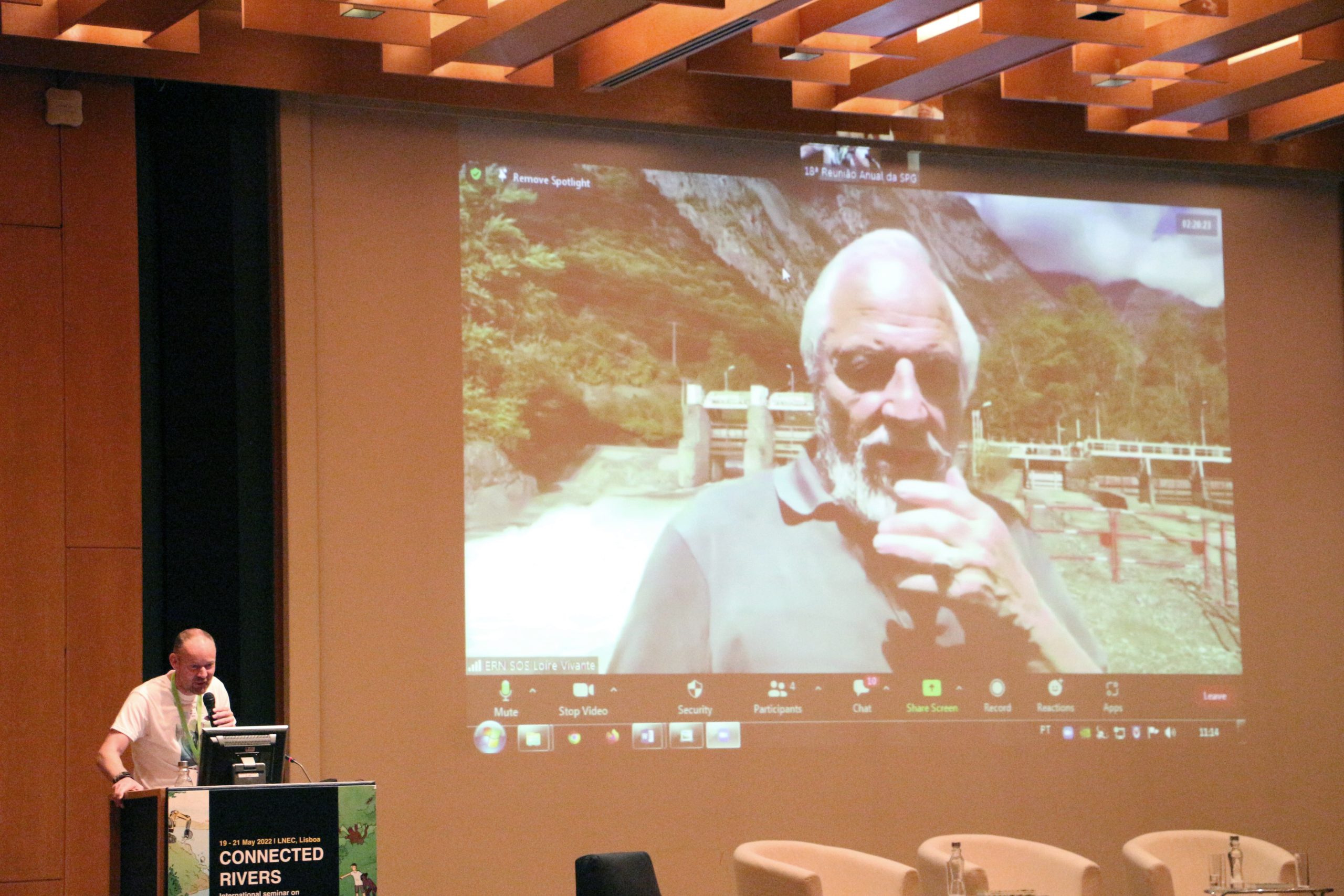 Herman Wanningen (WFMF) interviewing Roberto Epple (ERN) live in the field
Round table discussions with speakers
#DamBusters documentary preview screening for focus group.
Focus group screening of #DamBusters documentary, to be released fall 2022
17 people from other LIFE projects and organizations participated in the event and discussion
Attendees enjoyed live musical performances, including a song written especially for the Connected Rivers seminar
The first ever

Dam Removal Europe Award

celebration was held, honoring the most innovative and inspiring barrier removals from European rivers.
Hanna Ollikainen accepting her award on behalf of the South Karelia Foundation for Recreation Area. Their removal of the Kangaskoski Dam in Finland was an inspiring success.
The third day of the conference was a field trip to a riverine restoration site.  Attendees visited a barrier listed as a high priority for removal. They also joined ProTejo in their initiative for World Fish Migration Day, viewing a demonstrative electrofishing session for schools and the general public on the Tejo River. 
Demonstration of electrofishing sampling process for schools and the general public, on the Tejo River, in Vila Nova de Barquinha, during a WFMD event
"Matrena" weir, River Nabão, Portugal. This is the most downstream barrier on the Nabão River, which was identified as a priority for removal by the Portuguese ministerial task force 6 years ago.
On behalf of all the organizers, we thank everyone for joining the 7th annual Dam Removal Seminar! We hope it left attendees with renewed energy and the tools to continue working to bring back free-flowing rivers in Europe and beyond.
Access the Presentations from the Conference