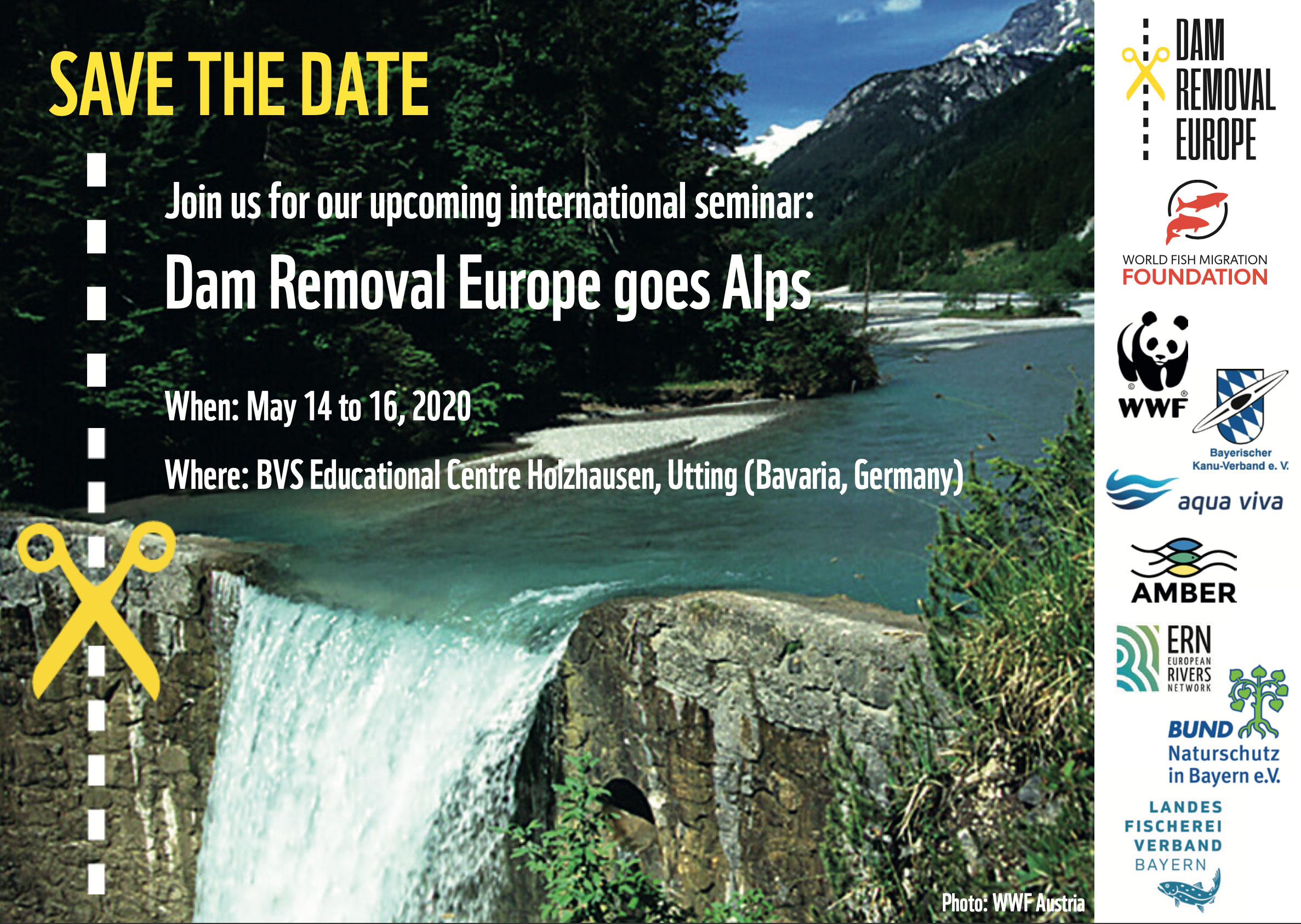 We are pleased to announce the "Dam Removal goes Alps" seminar, organized by WWF (Germany, Austria and Switzerland), Dam Removal Europe partners, and in cooperation with regional and international partners. It takes place from 14 to 16 May 2020 in the BVS Educational Centre Holzhausen in Utting am Ammersee, Bavaria, Germany. It will be the Global Headquarters for World Fish Migration Day and a public outreach event!
Register here
Registration ends on March 31, 2020. More information about the event and booking options can be found on the registration page.
Our rivers are blocked, dammed and constrained. Recent analyzes show that purely by calculation, European rivers are blocked every kilometer by a transverse structure. Experts like John Waldmann, professor of biology from the United States, are certain: no other measure brings back the ecological function of rivers as effectively as the dismantling of dams. 
The Dam Removal Movement started in the USA, where the era of dam construction is over. Over the past 30 years, more than 1,000 transversal structures have been dismantled. The most spectacular example of a dam demolition took place in 2011 on the Elwha River at the Olympic National Park, Washington. In Europe, we have dismantled around 5,000 dams particularly in France, Sweden, Finland, Spain, and Great Britain. Of these, the largest demolition of a dam is currently taking place at the Sélune River in France.
Living rivers in the Alps
Would dam removal be the best-fit solution to restore rivers to a living and free-flowing state in the (pre-)Alpine regions and Bavaria? There is plenty of potential for this, as there are still numerous falls, groundsills, old hydropower stations and reservoirs that have become obsolete and are unnecessary barriers for migrating fishes and other river dwellers. The dismantling of these transversal structures can also significantly contribute to the restoration of original river habitats. It would better comply with the obligations under the European Water Framework Directive, which requires a good ecological status or a good ecological potential for all rivers by 2027.
During the conference, we will learn from experiences from all over Europe, discuss the ecological, economic and social benefits of dam removal, show the restoration potentials for the (pre-)alpine regions and outline the necessary framework conditions for dam removal. Of course, the mutual exchange and networking of relevant actors will be promoted – from practitioners from authorities, planning offices, nature conservation and science to recreational users, tourism experts and politicians.
The conference will coincide with the World Fish Migration Day on 16 May 2020 under the motto "Connecting fish, rivers and people." ! It will be the European Headquarters and a public outreach event! This global day of action raises awareness of the importance of free-flowing rivers and migratory fish species.
Let us inspire and become part of the worldwide dam removal movement !
Registration for the seminar will start early in 2020: www.wwf.de/damremoval-alps2020.
The flyer summarizes the most important information!
Download the flyer here